Salawa explosion: Angry residents blast compensation schemes
By Sandun Jayawardana

Although the explosion of the ammunition store at the Salawa army base on June 5 last year only claimed one life, the incident damaged or destroyed more than 2,000 houses. The Government set aside more than Rs 1.2 billion for compensation.
While rebuilding continues, compensation has caused anger, with some victims having rejected estimates of property damage done by Valuation Department officials.
Sriyakanthi Godagama lived in a house near the army camp. She told the Sunday Times that authorities had compensated many but the varying amounts has caused friction.
"Some people have fallen out with others over the fact that they had received more money. Some residents have even formed separate victim associations."
Mrs. Godagama said compensation her family received was inadequate. The family had not been able to so far move back in to their home.
Compensation for damaged or destroyed vehicles is a another troubling issue.
Ms Godagama said her vehicle, which was fairly new, suffered considerable damage. Hers was among 49 vehicles that were damaged. "We keep going to the Assistant Government Agent's Office. But, they tell us that no money has been allocated for damaged vehicles."
She said this was unfair as insurance companies were only paying out a small portion and they had to bear most of the cost.
S.S. Miyanwala, Secretary to the Ministry of Disaster Management said Rs.1,258.7 million had already been awarded as compensation for the Salawa disaster. Some 200 houses had suffered severe damage, he added. Owners of businesses have also been compensated.
Some have rejected their compensation packages. "They are not satisfied with the amounts they were awarded. Their appeals are currently being heard," the secretary said.
Mr Miyanwala said the Ministry of Disaster Management did not handle the matter and the Finance Ministry had not made a separate allocation. He said since the vehicles were insured, it is likely that there are some complications.
---
Koslanda disaster: All but 30 victim families resettled
It is now two-and-a-half years since a landslide in Koslanda, Meeriyabedda left 39 people dead on October 29, 2014. The disaster left hundreds displaced — their houses and property buried. Many were later housed at the disused Mahakanda Tea Factory, which was converted into a welfare camp.
The families languished at the camp for well over a year. After several false starts, authorities finally made progress in building permanent houses. A batch of 75 houses were handed over to the families late last year.
Haldummulla Divisional Secretary Shiromi Jeewamala said the last of the displaced from the landslide were settled in the new houses on October 22, last year, almost two years to the day after the landslide swallowed large swathes of Meeriyabedda.
While all those who lost houses due to the landslide have been resettled, the Divisional Secretary said there was still an issue surrounding about 30 families who live in two sets of line rooms near the site of the landslide. The area has been designated as a 'danger zone,' meaning that these line rooms were vulnerable.
Authorities have advised them to move out and the Government has offered temporary shelters. However, residents have refused, demanding permanent houses, Mrs. Jeewamala explained.
Accordingly, the Divisional Secretariat has written to the Government requesting permanent houses for the displaced through the Indian housing project, implemented through the Ministry of Estates and Infrastructure Development. The residents have also agreed to move into these permanent houses once they are built. "We are hopeful that those houses would be built by the Government soon," she stressed.
---
Still not out of the floody hell
By Kasun Warakapitiya
They were promised relocation, new houses and compensation after the heavy flooding in the Kelanimulla area last year, but their conditions have not changed much.
Some of them have found their own accommodation and left while others live with friends or relatives expecting to find their homes.
Two of the families still live in tents which may not last for many months.
H.A. Susil Priyanka, one of the residents who spent a year in the tent told
the Sunday Times
only a few tents were near the garbage dump while the rest were situated at a temple in Kelanimulla. He said that the Government gave each resident a tent and a promise of a secure house.
"I have lived here for a year now. Yet, I received no house. During that time, one by one displaced people lost their hopes and went to rent houses."
He said that both he and his wife had to brave mosquitoes. Water seeps into the tent on rainy days and rats crawl in, too.
He claimed that he lost his furniture and what he currently had, had been donated by private organisations.
"The Government did not spend a penny on me and my wife who lost everything, our dreams of living a happy life was shattered. During the day, it is hot and at night, extremely cold. We are fed up of staying in this place, but we only have this tent," he said.
K. Gunathilakan who lives in Kelanimulla said that the Government last year promised many solutions for the flood victims but there has been no support.
He said that many officials visited them from time to time and told him he would be provided with Rs 15,000 to repair the damage to his house, which had been over eight feet under water.
Mr Gunathilakan who earlier worked as an employee a the National Hospital said that he lost his furniture, television and household items but the Government had not paid compensation.
"Disaster Management officials and representatives of the Valuation Department came to collect information, but we are yet to receive any Government support," he said.
Another resident of the same area, Sunimal Shantha, said that some of the wooden houses were swept away by the flood waters last year. He said that the Government didn't provide compensation for the houses which were damaged.
"Rs. 15,000 compensation had been proposed. It has to be given but my house underwent more damage including severe damage to the roof," he said.
Ariyaratne Gunathilaka,
said that she and her mother left their house leaving behind valuable furniture during May 15.
"When the water receded my house had pockets of water remaining in the living room. My couch was destroyed. All the chairs had been floating in the house and were damaged,'' she said.
She claimed that the government officials told her that they will provide her a mattress, mosquito net and other household items as well as furniture.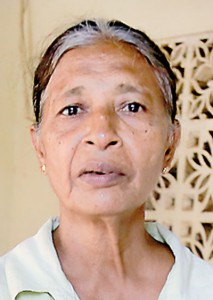 Ms Gunathilaka said that in the first six months she waited for the government to pay compensation for the damage to the house and furniture, yet received nothing.
"I have no electronic household items due to the flood and have no means of providing treats like iced drinks,'' she said.
She also said that her mother who waited for compensation passed away a few months back. "I am also 67 years old and can not go to local government authorities to demand our compensation money," she said.
She also explained that the government did not advise her to leave or provide her a house in a safer area. So she requested government assistance to repair her house.
K.G. Kalyani
, who also lives in a house close to the Kelaniya river, said she received only a mattress and a mosquito net and that was all.
"My house has lost half of the roofing sheets while the walls have cracked due to the floods," she said. He TV was destroyed in the flood.
"My son and two brothers had to buy one because we could no longer wait for the Government. The Government has forgotten us already," she said.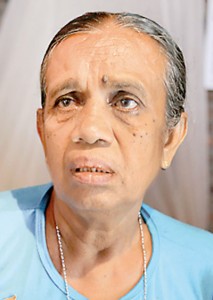 ---
Aranayake landslide victims: Buried in unfulfilled promises
By Pradeep Kumara Dharmarathna in Aranayake


Hundreds of residents displaced due to the landslide at Samsara Kanda in Aranayake were compelled to spend their National New Year in welfare camps this year. There were no Avurudu sweetmeats for them. The residents spent the day in tents. Living in the shadow of the deadly mountain, they wonder when they would ever be able to move into a permanent home.
Over 4,000 people were displaced by the Aranayake landslide on May 17, 2016. Thirty-one died, while six others are still listed as missing. The landslide destroyed 72 houses. A further 288 houses suffered partial damage.
By late May, 4,291 people from 1,426 families had been displaced. They were relocated to 23 welfare camps.
The National Building Research Organisation recommended the relocation of 571 families living in the danger zone prone to landslides.
Today, almost a year after the disaster, 469 families continue to remain in either temporary tents or semi-permanent houses, according to Aranayake Divisional Secretary Z.A.M. Faizal. Only 62 houses have so far been built for the displaced. Most of the houses have been built by private foundations. The Sri Lanka Red Cross is to build a further 100 houses for the victims in four stages, while the Chinese Government is to also to build a further 100 houses, the Divisional Secretary explained.
Mr. Faizal said the Government has also allocated Rs.1.2 million each for 100 families as compensation.
The displaced however, complain that though they have lived at the welfare camps for 11 months now, authorities have been lethargic. Construction of most houses was yet to begin while compensation was also slow in coming, they charge.
There have been further complaints regarding the alleged uneven distribution of monthly rations for the displaced.
Meanwhile, survivors continue to suffer from deep psychological scars as they grapple with the reality of living without their loved ones.
At the camp set up on the playground of the Hathgampala Vidyalaya, K.G. Piyasena, 62, told us that he was the only one in his family to survive the landslide. His son, daughter-in-law and two grandsons, aged 15 and seven, all died that day.
Mr. Piyasena, originally from the village of Siripura in Elangapitiya, said he had only survived because he was at a nearby shop that evening. "I heard a sound like the crash of a helicopter. When I rushed back, the entire area was covered with rubble and earth. I lost all my children," he said, voice choking with emotion. "My two grandsons would wait for me in the evenings for me to bring them sweets. I have no one to buy sweets for now. I feel so alone now. I can't imagine why this happened to people like us."
H.P. Chandrika Priyadarshani, 33, remains distraught at having to live without her two children. It had been raining heavily for several days before the tragedy. The embankment near their house collapsed due to the rain and she said they had temporarily shifted to her aunt's house further down the mountain.
"My brother called on the morning of the 17th and said he was coming from Kandy. I tried to tell him not to come because of the heavy rain but I had no money for the call. So, my husband and I decided to go to the shop to buy a phone card. My son tried to accompany us but I didn't want to take him out in the rain. I was rather stern with him and told him to stay put. He then asked me to bring him a small torch. Hearing this, my little daughter also asked me to bring her Vesak cards."
Mrs. Priyadarshani had left her husband at the shop and was hurrying back to the house when she heard a loud sound that frightened her and made her run back to the shop.
"When I looked back in the direction of the house, I saw the electricity poles were collapsing and the mountain coming down. It was over in an instant. I tried to run back to my aunt's house, but a woman near me stopped me and said there was nothing I could do by going there. They were all gone."
Sunday Times LK